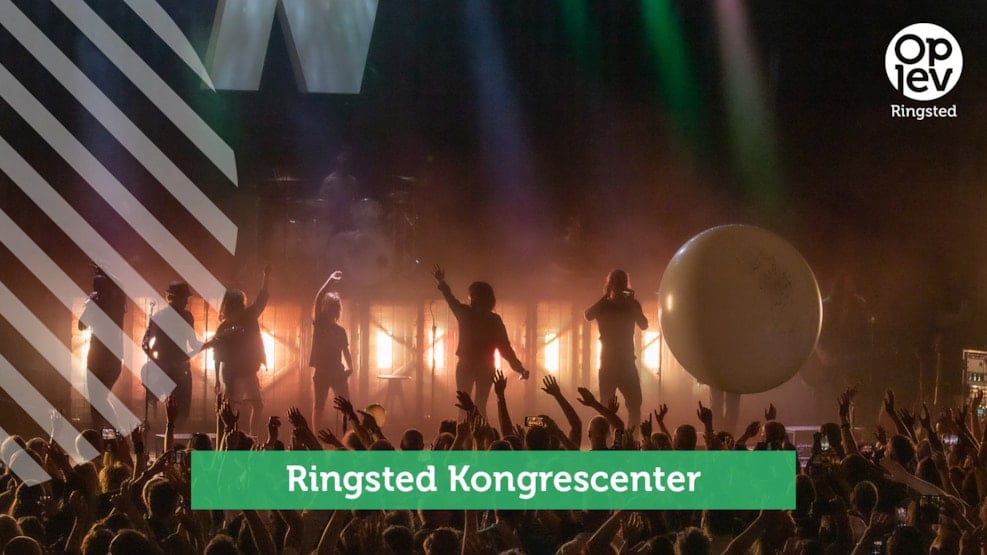 Ringsted Congresscenter
There is something for everyone on Ringsted Congress Center's programme. Names such as Thomas Helmig, "Anden", Rasmus Seebach and tv-2 are some of the artists who have passed by over the years.
Ringsted Kongrescenter embraces widely
Ringsted Kongrescenter is both a music venue and a course and conference centre.
Every year, more than 50.000 cultural visitors are welcomed at more than 100 cultural eventes.
With a wide program it is easy to find something for every taste.
The convention center has two stages, which makes it possible to hold smaller perfomances and intimate concerts with up to 230 guests, as well as larger productions and concerts witu up to 1,500 guests.
Over the years, names such as Nena, Thomas Helmig, Tina Dickow, Rasmus Seebach, TV 2, Volbeat, Anders "Anden" Matthesen, Mick Øgendahl and Nana Mouskouri have made their way past Ringsted Congres Center.
With a central location in the middle of Zealand and easy accessibility both by car and by public transport, Ringsted Congres Center is an ideal place to meet when it comes to courses, conferences, exhibitions and smaller fairs. Anually, approx. 100 events.
This covers everything from large summer meetings with 900 participants to smaller everyday meetings with 25 participants. With rooms that can be adapted to the individual event, Ringsted Congress Center offers great flexibility and all the possibilities to create the framework for the customers' event.
Central location in the middle of Zealand
Ringsted Congress Center is only a 2-minute drive from the E20 motorway and with particularly good train connections to Ringsted.
Good parking conditions
We have lots of parking spaces without paying or using a P-disc. The car park is 100 meters from Ringsted Kongrescenter's main entrance.
Concert weekend
In close cooperation with Scandic Ringsted and Ringsted Outlet, we can offer CONCERT weekend, which includes buffet, ticket to a performance, accommodation, breakfast and a voucher for shopping in Ringsted Outlet.